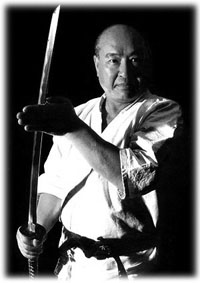 MASUTATSU OYAMA
July 27th, 1923 - April 26th, 1994
Oyama was born as Choi Young-Eui in Gimje, South Korea, during Japanese occupation. At a young age he was sent to Manchuria to live on his sister's farm. Oyama began studying martial arts at age 9 from a Korean seasonal worker who was working on the farm. His name was Lee and Oyama said he was his very first teacher. The story of the young Oyama's life has been sensationalized in manga and movies so the line between fiction and fact has become obscure.

In March 1938, Oyama left for Japan following his brother who enrolled in the Yamanashi Aviation School Imperial Japanese Army aviation school. Sometime during his time in Japan, the then Choi Young-Eui chose his Japanese name, Oyama Masutatsu, which is a transliteration of 'Baedal'. 'Baedal' was an ancient Korean kingdom known in Japan during Oyama's time as "Ancient Joseon". 'Masutatsu' can also be pronounced 'baitatsu' in Japanese. Oyama was inspired to go to Japan by General Kanji Ishihara who was against the invasion of Asian neighbors (as a consequence, he was ostracized by higher ranks of the Japanese Army), to carve out his future in the heart of the Empire of Japan.

One story of Oyama's youth involves when Lee gave young Oyama a seed which he was to plant; when it sprouted, he was to jump over it one hundred times every day. As the seed grew and became a plant, Oyama later said, "I was able to jump between walls back and forth easily. " The writer, Ikki Kajiwara and the publisher of the comics based the story on the life experience Oyama spoke to them about- thus the title became "Karate Baka Ichidai"(Karate Fanatic).

Oyama aspired to serve the Imperial Army during the war. He wrote a letter to the highest-ranking officers with the blood from his fingers to apply for the Kamikaze pilot. Because it was the elite course he was rejected the first few times because of his back ground however, later Oyama recalls, "After the general saw I wrote in my own blood he knew I was ready to serve. The next week I was supposed to leave as Kamikaze, never returning to my home country." However, on the day of his mission, his airplane malfunctioned.

He later said in an interview for TV program," I had breakfast with my comrades ready to serve our country. In the evening when I returned for supper, the chairs were empty. There were no words to describe what I felt but I know I was given a chance to do something." One of the last TV programs Oyama taped was for Fuji Network (Japan) for a program called, 'Itsu Mitemo Haranbanjyo' (Always Stormy and Full of Drama).

In 1963, Oyama wrote "What is Karate" which became a best seller in the US and sold million copies all over the world. It is still considered the "Bible of Karate" to this day. It was translated into Hungarian, French and English.

In 1953 Oyama opened his own karate dojo, named Oyama Dojo, in Tokyo but continued to travel around Japan and the world giving martial arts demonstrations, including the fighting and killing of live bulls with his bare hands[citation needed]. His dojo was first located outside in an empty lot but eventually moved into a ballet school in 1956. Oyama's own curriculum soon developed a reputation as a tough, intense, hard hitting but practical style which was finally named Kyokushin, which means 'the search for the ultimate truth,' in a ceremony 1957. He also developed a reputation for being 'rough' with his students, often injuring them during training sessions. As the reputation of the dojo grew students were attracted to come to train there from inside and outside Japan and the number of students grew. Many of the eventual senior leaders of today's various Kyokushin based organisations began training in the style during this time. In 1964 Oyama moved the dojo into the building that would from then on serve as the Kyokushin home dojo and world headquarters. In connection with this he also formally founded the 'International Karate Organization Kyokushin kaikan' (commonly abbreviated to IKO or IKOK) to organise the many schools that were by then teaching the kyokushin style. In the same year, his dojo received a challenge from Muay Thai (Thai Boxing) practitioners. Oyama, believing that no other style was comparable to his, accepted the challenge and sent three students (Kenji Kurosaki, Tadashi Nakamura, Noboru Osawa) to Thailand who won 2 of the 3 fights, thus redeeming the reputation of his karate style.

After formally establishing Kyokushin-kai, Oyama directed the organization through a period of expansion. Oyama and his staff of hand-picked instructors displayed great ability in marketing the style and gaining new members. Oyama would choose an instructor to open a dojo in another town or city in Japan. The instructor would move to that town and usually demonstrate his karate skills in public places, such as at the civic gymnasium, the local police gym (where many judo students would practice), a local park, or conduct martial arts demonstrations at local festivals or school events. In this way, the instructor would soon gain a few students for his new dojo. After that, word of mouth would spread through the local area until the dojo had a dedicated core of students. Oyama also sent instructors to other countries such as the United States, Netherlands, England, Australia and Brazil to spread Kyokushin in the same way. Oyama also promoted Kyokushin by holding The All-Japan Full Contact Karate Open Championships every year and World Full Contact Karate Open Championships once every four years in which anyone could enter from any style.

As a side note: Oyama also took up Judo so that he would have an understanding of the art's ground techniques. Masahiko Kimura Judo Legend then introduced Oyama to the Sone Dojo in Nakano, Tokyo, where he trained regularly for four years, eventually gaining his 4th Dan in this discipline.