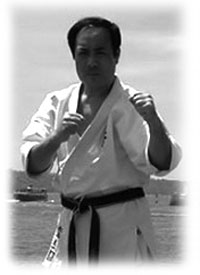 YOSHIKAZU MATSUSHIMA
I.K.O President

Yoshikazu Matsushima was born on April 23rd, 1947. Kancho Matsushima started training karate at the Ikebukuro dojo in Tokyo, Japan in 1965. He was a student of Oyama, Sosai.

He has taught karate around the world, has appeared in magazines, television shows and movies promoting the Kyokushinkai. Matsushima, Kancho was selected to appear in Sosai's book "Advanced Karate". In 1989 he was awarded a special presentation by Sosai for promoting Kyokushin Karate!

As one of the very first Branch Chiefs appointed, Matsushima, Kancho has been training, teaching, and promoting Kyokushin for more than 35 yrs. He is totally dedicated to, and focused on the preservation and positive growth of Sosai's karate!

Yoshikazu Matsushima was elected as President of the International Karate Organization Matsushima Group in November of 1998. Kancho continues to travel around the world sharing his knowledge and expertise of the "Kyokushin" style of karate.